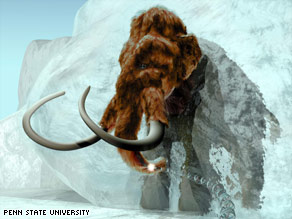 This drawing shows a prehistoric woolly mammoth linked to a strand of DNA and emerging from a block of ice.


By Azadeh Ansari
(CNN) -- A team of scientists at Penn State University could be one step closer to bringing extinct species back to life. Using next-generation instruments and groundbreaking DNA-reading techniques, scientists have uncovered much of the genetic code of the woolly mammoth, a prehistoric species of elephant.
Read the rest on CNN.