By Brian Byrnes

BUENOS AIRES, Argentina (CNN) -- When Susana Trimarco's daughter Marita Veron was 23, she vanished from their hometown in Argentina, a suspected victim of a human trafficking and prostitution ring with links throughout Latin America and Europe.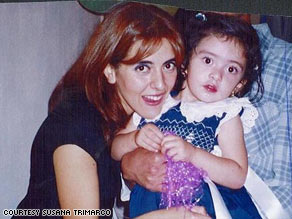 Marita Veron, who is missing, hugs her daughter Micaela. Police believe Marita was forced into sexual slavery.
Trimarco, 54, has spent the last 6 ½ years searching for her daughter, often putting herself at risk. While chasing down leads on Marita's whereabouts, she's entered into dark and dangerous brothels and confronted pimps and politicians who, she says, are complicit in her daughter's disappearance.