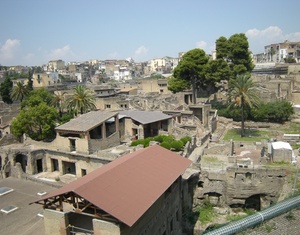 Because much of ancient Herculaneum lies under modern construction, it is less than half excavated.
CASTELLAMMARE DI STABIA, Italy - Over several centuries, millions of tourists have visited Pompeii to acquaint themselves with the cataclysmic eruption of Mount Vesuvius that began on Aug. 24, 79 A.D. But while it's the most famous eruption site, the ancient Roman city 15 miles south of Naples isn't the best place to gauge the volcano's awesome destructive power.
For that, one should visit lesser-known Herculaneum, which is closer to Vesuvius, or Oplontis and Stabiae, two sites more recently uncovered and still relatively unknown to tourists. In these places, several of which are still being excavated, the eruption's consequences are more visible.
The reason is simple. Pompeii was buried over a period of hours by a prolonged shower of rock, ash and pumice, and then only up to the height of several stories. Nothing was ever built on top of the ruins (the modern city is nearby), which meant that eventually most of the city could be uncovered without superhuman effort.
Today, about 80 percent of Pompeii is open to the sky; it looks like an abandoned city, not a buried one. From many points one can barely see the volcano that put paid to its existence.
Read the rest on Philly.com