by Martin Wainwright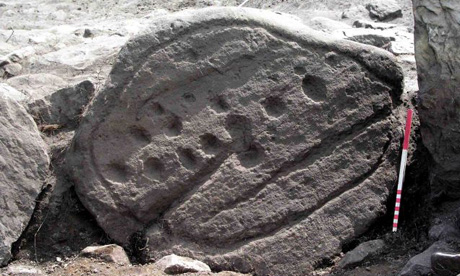 Carved stones found on Fylingdales Moor in North Yorkshire
A catastrophic fire which "skinned" a precious moorland to its rocky bones has unexpectedly revealed some of the most important prehistoric archaeology found in Britain.
The uncontrolled six-day blaze on Fylingdales Moor in North Yorkshire has exposed a lost landscape dating back 3,000 years which is now to be made accessible to the public by English Heritage.
Unique rock art and unprecedentedly clear bronze age field boundaries have emerged from the soot and cinders which were all that was left of two-and-a-half square miles of the North York Moors national park when fire crews and heavy rain finally swamped the area in September 2003.
The intense heat destroyed the entire blanket of peat which had accumulated over the area, close to the North Sea coast, since farmers abandoned it for unknown reasons in around 1000BC.

Read the rest on the Guardian.