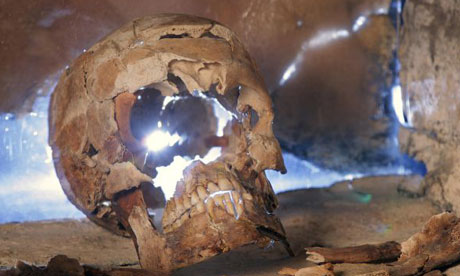 Skeleton of a 4th-century man found at a Roman villa in Lullingstone, Kent. Photograph: Anthony Upton/PA
A rare, complete set of 30 glass counters for a Roman board game has been set out again, more than 50 years since they were excavated and almost 1,700 years since they went into the tomb with their twentysomething owner.
His skeleton, still in its handsome scallop shell decorated lead coffin, is now surrounded again by the refreshment provided for his journey to the next world - flagons, bottles, spoons and bowls, and the 30 counters, probably for the gambling game duodecim scripta, laid on top of his coffin - as well as hundreds of other objects excavated a lifetime ago but now going on show.
The ruins of Lullingstone Roman villa in Kent have been on display since the 1960s. But the leaking structure used to cover it was not safe for the more fragile objects, which remained in store. A £1.8m English Heritage display, opening today, will show off the ruins with an elaborate light show, and for the first time reunite the villa and its contents.

Read the rest on the Gaurdian.co.uk.