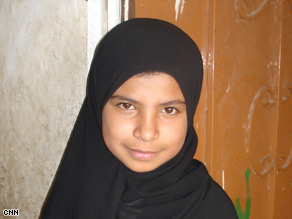 Nujood Ali, 10, has been chastised by some in Yemen for speaking out about her arranged marriage
.
SANAA, Yemen (CNN) -- Nujood Ali is 10 years old, but she already has been married and divorced. It was an arranged marriage in which she said a husband three times her age routinely beat and raped her.
"When I got married, I was afraid. I didn't want to leave home. I wanted to stay with my brothers and sisters and my mom and dad," she said, speaking to CNN with the permission of her parents.
"I didn't want to sleep with him, but he forced me to. He hit me, insulted me."
As she plays marbles with her brothers and sister, Nujood is a portrait of innocence, with a shy smile and a playful nature.
But what happened evokes anger and shame. Asked if what she went through was torture, she nods quietly.
Read the rest on CNN.