DORCHESTER, England (CNN) -- Englishman John Webber thought nothing of the small shiny cup, passed down from his junk dealer grandfather and stashed under a bed for years -- until appraisers said it was an ancient Persian artifact.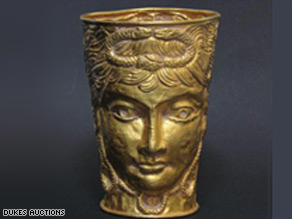 The ancient Persian gold cup, thought to date from the third or fourth century B.C., fetched $100,000 at auction.
The five-and-a-half-inch gold cup -- which experts have dated as being possibly from the third or fourth century B.C. -- fetched $100,000 at an auction in Dorchester, southern England, Thursday.
The identify of the successful bidder wasn't immediately known.
The relic features the double faced ancient Roman god Janus, the god of gates and doors who always looked to both the future and past and is often associated with beginnings and endings. The cup has two faces with braided hair and entwined snake ornaments at the forehead.
Webber's grandfather, William Sparks, was a rag and bone man, the British term for a junk dealer, Duke's said, who established the iron merchants Sparks and Son in Taunton, Somerset, in southwestern England, in the 1930s.
Sparks acquired the cup along with two other pieces, also up for auction, some time in the 1930s or 1940s, the spokeswoman said.
Before he died, Sparks gave the items to Webber, who didn't realize their value, the spokeswoman said.
"Because he mainly dealt in brass and bronze, I thought that was what it was made from," Webber told the Bournemouth News and Picture Service. "I put it in a box and forgot about it. Then last year I moved house and took it out to have a look and I realized it wasn't bronze or brass.
"I sent it to the British Museum and the experts there hadn't seen anything like it before and recommended I had it tested at a laboratory. So I paid quite a bit of money for it to be examined by a lab the museum recommended. And they found the gold dated from the third of fourth century B.C."