by Maev Kennedy
The Guardian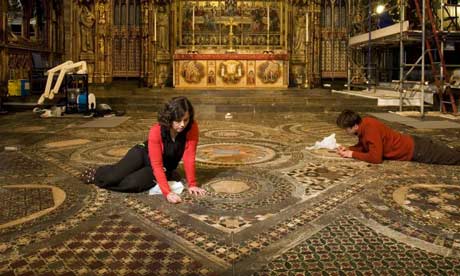 Conservation work being performed on the 13th century Cosmati pavement, constructed from medieval coloured tile and gemstone, at Westminster Abbey. Photograph: Graham Turner
The wraps have come off one of Westminster Abbey's least known treasures, a medieval marble pavement foretelling the end of the world, while conservation experts consider how to preserve the ancient stones for the next 740 years.
Few modern visitors have ever seen it, although since 1268 kings and princes, queens and cardinals have walked across a symbol laden mosaic as intricate as a piece of jewellery.
It is made up of rare marbles and gemstones, including some recycled from monuments 1,000 years older, and pieces of coloured glass, set in complex allegorical patterns into a framework of Purbeck marble cut as intricately as a jigsaw puzzle.
Read the rest on The Guardian.